Matty Memorial Tournament May 6
871 Posts
#1
· March 27, 2022, 9:09 am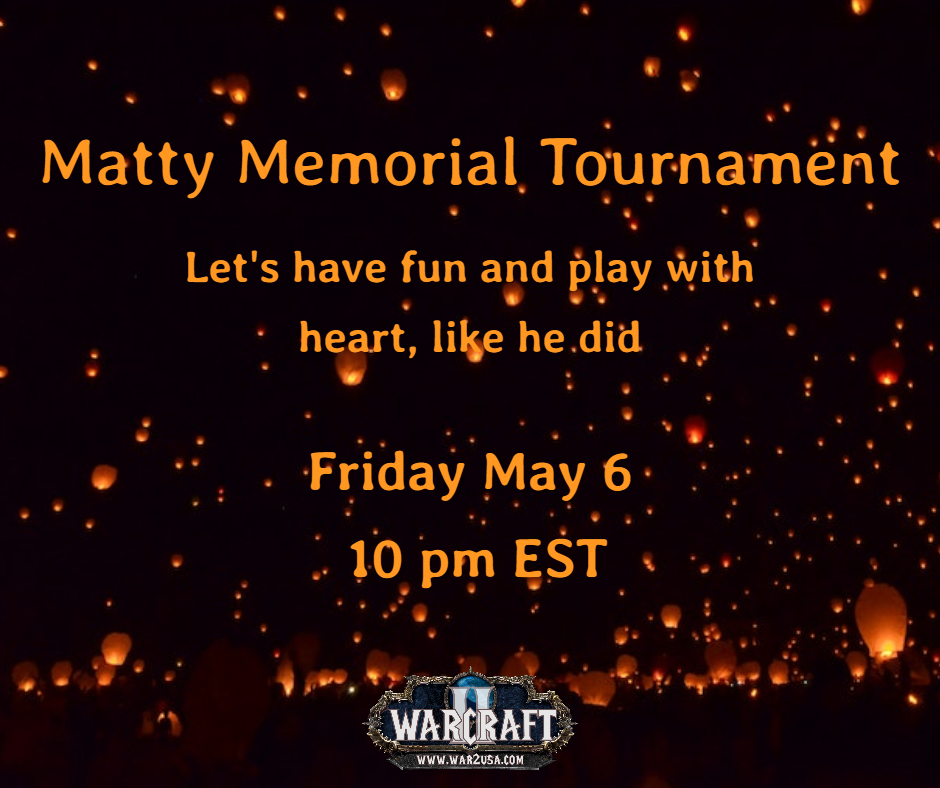 A fun 1s tournament including Matty's favorite maps classic GOW and Instant Action is being planned for Friday May 6, 2022 at 10 pm EST. He will have been gone for a year in May, just a huge loss to the Warcraft 2 world and to all who knew him.
Matty was a Warcraft 2 player and beautiful spirit who deserves to be remembered. He was always such a good time to hang out with and that's the goal of this event: a good time! He loved 1s and classic BNE maps. The joy and fun and laughter he brought with him is what I want to celebrate and remember and I believe it's what he would want in his memory, people enjoying themselves playing one of his favorite games.
Many of our current USA players didn't know Matty (we played mainly on RU some years back and only a bit at USA) but that's okay; come have a fun time with us anyway!
Friday May 6th 10 pm
(I do have to mention Xurnt here also as he was the originator of the concept, and whatever happened since, he was a huge contributor to the game Warcraft 2.)
Click for thumbs down.
0
Click for thumbs up.
0
Last edited on March 31, 2022, 12:16 am by BabyShark
#2
· April 16, 2022, 1:01 pm
This is coming up in less than 3 weeks now. Sign up for this fun competition on classic maps (Matty's faves including Instant Action BNE Fixed Order!) if you haven't yet.
We plan to have a great time, like everyone who got a chance to hang out with him always did with Matty.
Click for thumbs down.
0
Click for thumbs up.
0
#3
· April 28, 2022, 10:47 pm
Click for thumbs down.
0
Click for thumbs up.
0
#4
· May 26, 2022, 12:43 am
The page has been updated with the bracket and winner.
Click here to go to tournament page.
Thank you to all players for coming out for this event. A few latecomers made a special effort including @lambchops and dannydll who arrived after the bracket was launched.
Click for thumbs down.
0
Click for thumbs up.
0